Coronavirus: What does shielding mean?
Patients most vulnerable to COVID-19 have been asked to 'shield'. Here's some more information to help you understand what shielding means in practice.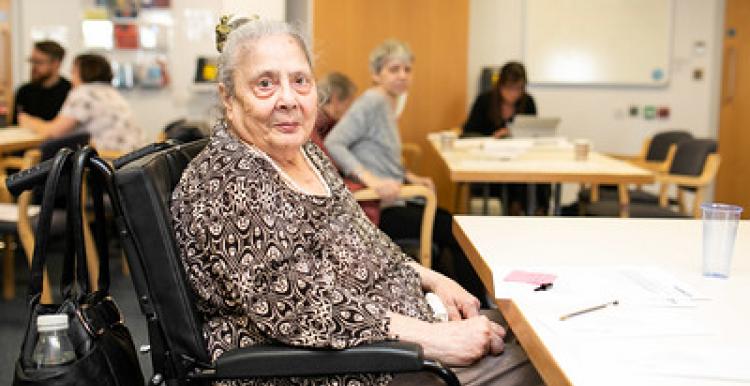 Last updated 02/06/2020
Updated guidance
The government has updated its guidance for people who are shielding, taking into account that COVID-19 disease levels are substantially lower now than when shielding was first introduced.
People who are shielding remain vulnerable and should continue to take precautions. Changes to the guidance include:
'shielders' can now leave their home as long as they are able to maintain strict social distancing i.e. remain two metres (3 steps) apart from other people.
If you choose to spend time outdoors, this can be with members of your own household. If you live alone, you can spend time outdoors with one person from another household. Ideally, this should be the same person each time.
This guidance will be kept under regular review. To read the latest information please visit the Government advice page.
Read further information on schools and the workplace for those living in households where people are shielding. This guidance remains advisory.
Who has been contacted about shielding?
The NHS has been writing to people considered to be at highest clinical risk from coronavirus (COVID-19) asking them to 'shield'.
As we move into the next phase of COVID-19, a number of patients are being identified by clinicians as no longer needing to be on the clinically extremely vulnerable list. The decision to remove a patient from the list following a list should always be a clinical decision. Clinicians have been advised to discuss these decisions with their patients and mark their decision on the IT system.
Frequently asked questions
The following Q&A, based on information provided by the Government, aims to help you get some of the answers you need, to know about what shielding means in practice.
What does 'shielding' mean? 
Shielding is the word used to describe how to protect those at highest risk of severe illness if they catch coronavirus. You can shield yourself following the Government guidance, and shield others by minimising all interaction between yourself and those who are most at risk.
I've received a text to say that I'm removed from the shielding list - what does this mean?
The Government has contacted some people who have been removed from the 'shielding list' by their clinicians with a follow up text to make it clear that they can still access forms of support including the NHS Volunteers network, and will retain their supermarket priority delivery slots.
If you have received a text and are unsure of what it means for you, you are advised to contact your clinician to discuss.
What do I do as a 'shielder'?
People classed as clinically extremely vulnerable are advised to take additional action to prevent themselves from coming into contact with the virus. If you're clinically extremely vulnerable, you're strongly advised to stay at home as much as possible and keep visits outside to a minimum (for instance once per day).
It's advisable to follow the advice below:
If you wish to spend time outdoors (though not in other buildings, households, or enclosed spaces) you should take extra care to minimise contact with others by keeping 2 metres apart.
If you choose to spend time outdoors, this can be with members of your own household. If you live alone, you can spend time outdoors with one person from another household (ideally the same person each time).
You should stay alert when leaving home: washing your hands regularly, maintaining social distance and avoiding gatherings of any size.
You should not attend any gatherings, including gatherings of friends and families in private spaces, for example, parties, weddings and religious services.
You should strictly avoid contact with anyone who is displaying symptoms of COVID-19 (a new continuous cough, a high temperature, or a loss of, or change in, your sense of taste or smell).
How long do I shield myself for?
The Government is currently advising people to shield until 30 June 2020 and is regularly monitoring this position.
How do I get food and medication if I'm shielding? 
Ask family, friends and neighbours to support you and use online services. The Government has also set up a dedicated website and helpline where you can go for wider support.
Please register now, using your NHS number, if you have received the letter so that the Government can start putting in place people to help: 
0800 028 8327 
www.gov.uk/coronavirus-extremely-vulnerable 
This service can help answer any questions you may have, such as: 
How do I get food shopping? 

How do I buy medicine? 

How do I pick up prescriptions?
Tell us about your experience of care
Has your care been disrupted by COVID-19 and its impact on health and social care services? Whether it's good or bad, we want to hear from you.
It only takes five minutes and your feedback can help NHS and social care services understand the steps they can take to improve care for you and your loved ones.
I haven't been contacted but I think I am in the high-risk group – what should I do?
If you have not received a letter or been contacted by your GP or hospital consultant, but feel you are within the high-risk category, you should contact your GP practice or hospital team. If you are unsure, check the list on the Gov.uk website to see if you are in the most at risk/ extremely vulnerable group. 
My main carer is unwell – what do I do?
Speak to your carers about back-up plans for your care in case your main carer is unwell or needs to self-isolate.
You should have an alternative list of people who can help you with your care if your main carer becomes unwell. You can also contact Rochdale Council for advice on how to access care.
I'm worried that shielding is going to affect my mental health - what do I do?
Try to stay in touch with those around you over the phone, by post or online. Let people know how you would like to stay in touch and build that into your routine. This is important in looking after your mental wellbeing and you may find it helpful to talk to them about how you are feeling if you want to.
Remember, it is okay to share your concerns with others you trust and in doing so you may end up providing support to them too. Or you might want to try an NHS recommended helpline.
You can refer yourself to NHS Volunteer Responders for a phone call from an NHS Volunteer, by calling 0808 196 3646 (8am to 8pm). We know that many people in the shielding group will already have good support networks among family, friends and neighbours, but if you don't, the volunteers can help with a range of support, from transport to and from hospital appointments to 'check in and chat' – a simple phone call from a volunteer to check that you are doing ok.
Got another question?
To find more detailed answers to these and other questions, read the Government guidance on shielding and protecting people defined on medical grounds as extremely vulnerable from COVID-19.